CALL FOR AOKs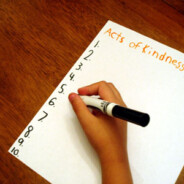 In honor of servant leader Felix D. Cook, and in the continuation of his legacy, we are encouraging YOU! Yes, YOU…to perform YOUR very own ACT OF KINDNESS in the community.
Felix D. Cook lived the following quote  –           
Service is the rent we pay for being.  It is the very purpose of life, and not something you do in your spare time.
– Marian Wright Edelman
So we would like you to share with us your act of kindness by submitting your AOK photo or video to info@youraok.org and write "MY AOK 2012″ in the subject line or "Tweet" us a photo or video to @yourkindacts using the hashtag #MyAOK.
Examples of an AOK include:
Paying a person's toll at the toll booth
Give a homeless person a meal
Saying I love you to someone you Love
Giving a smile or hug
We look forward to viewing your acts of kindness to the community!